The Teach Boys And Girls Success program is run and operated on the kindness and generosity of donations, volunteers, financial contributions and grants. Although TBAGS seeks ongoing financial support, there are many additional ways to support the much needed programs offered by TBAGS. Laptops, technology, cameras, voice recorders, gift cards, incentives, snacks, backpacks, art supplies, journals, restaurant gift cards to teach social skills and etiquette are just a few of some of the essential items. Every dollar and donation is used and needed to help a young person reach his or her potential.
Donations can be made online, mailed or arrangements can be made to be picked-up. Checks should be made payable to TBAGS, Inc., PO Box 25123, Charlotte, NC 28229-5123.
PURSES WITH A PURPOSE – Hand theBag Over©
HandtheBag Over© is unique concept where our supporters donate their Hand-Bags, Purses or Wallets to TBAGS and then we HandtheBag Over© to our new supporter or customer for a donation. TBAGS uses HandtheBag Over© as a tool and model to teach business, customer service, sales, display, and as an ongoing fundraiser. To donate your Purses, Wallets, Briefcases & Bags please contact us.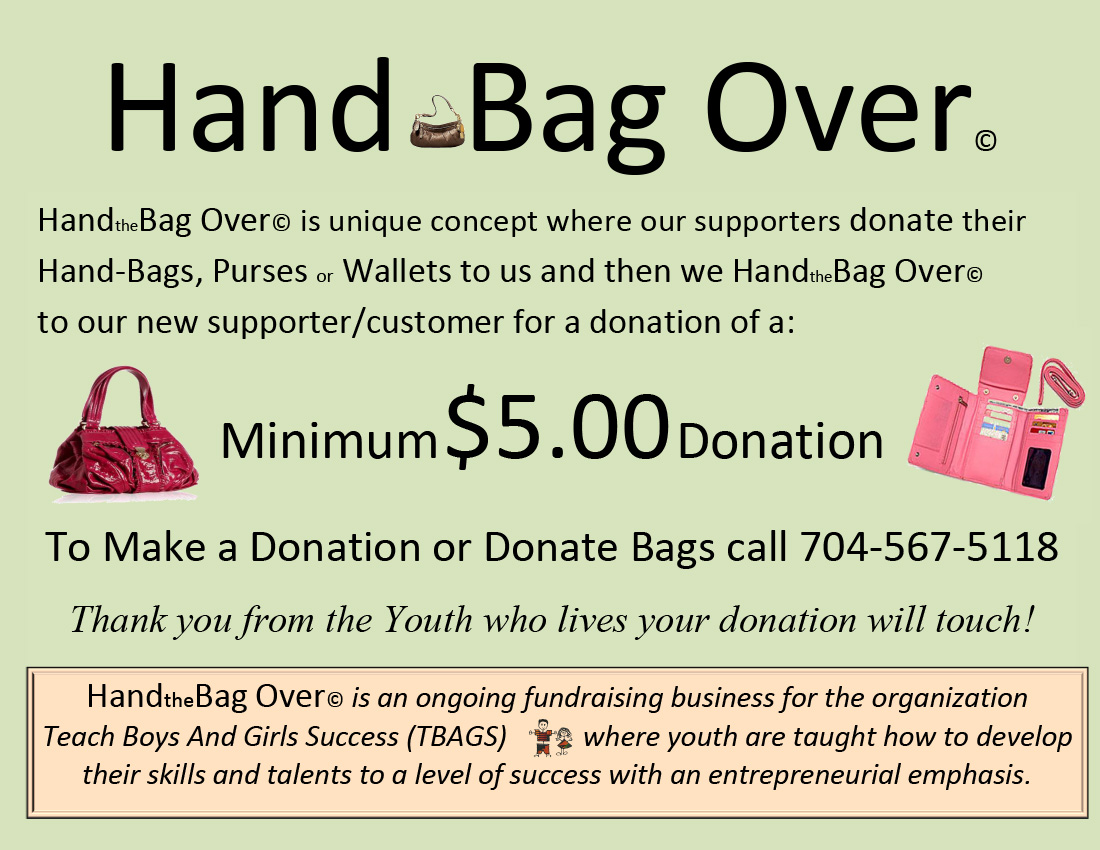 Multilevel Corporate Sponsorship Opportunities for the National Family Empowerment Conference & Family Fest.
Teach Boys And Girls Success is actively seeking Sponsors-Exhibitors-Vendors-Entertainment-Speakers-Workshop Facilitators for the annual National Family Empowerment Conference & Expo.
(click button for sponsor form)
National Ladies Tea Time Fundraising Opportunity
Make monetary donations online or make checks payable to Teach Boys And Girls Success or TBAGS, Inc., PO Box 25123, Charlotte, NC 28229-5123.
Bulk donations: Arrangements can be made to pick-up large items or bulk donations. All donations and contributions are tax deductible.